Dear Neighbor,
How are you? We hope you had a lovely long weekend. This week Epicenter-NYC reporter Andrea Pineda-Salgado spoke with the team behind Los Sures Food Pantry about how the work they did throughout the pandemic resulted in an art exhibit.
The Los Sures Comida Food Pantry team normally served about 1,500 people per month. When the pandemic hit, they were astonished by the amount of people in need; in April of 2020 nearly 6,000 people showed up.
The people of South Williamsburg, also known as Los Sures (the souths) to its predominantly Latino residents, each had a unique and compelling pandemic story to tell. The Los Sures team began creating focus groups and compiling data. The results shocked them: 70% of South Williamsburg residents said they were simply "not okay" when asked about their mental health. They described themselves as stressed, depressed, frustrated, worried and anxious. Yet through their responses the team also read into something else — the community's resilience.
"People told us how much trouble they were going through, but we felt like that didn't necessarily say what we really thought people were saying, which is: we're still here and we made it," said Zach Williams, director of Los Sures Comida Food Pantry.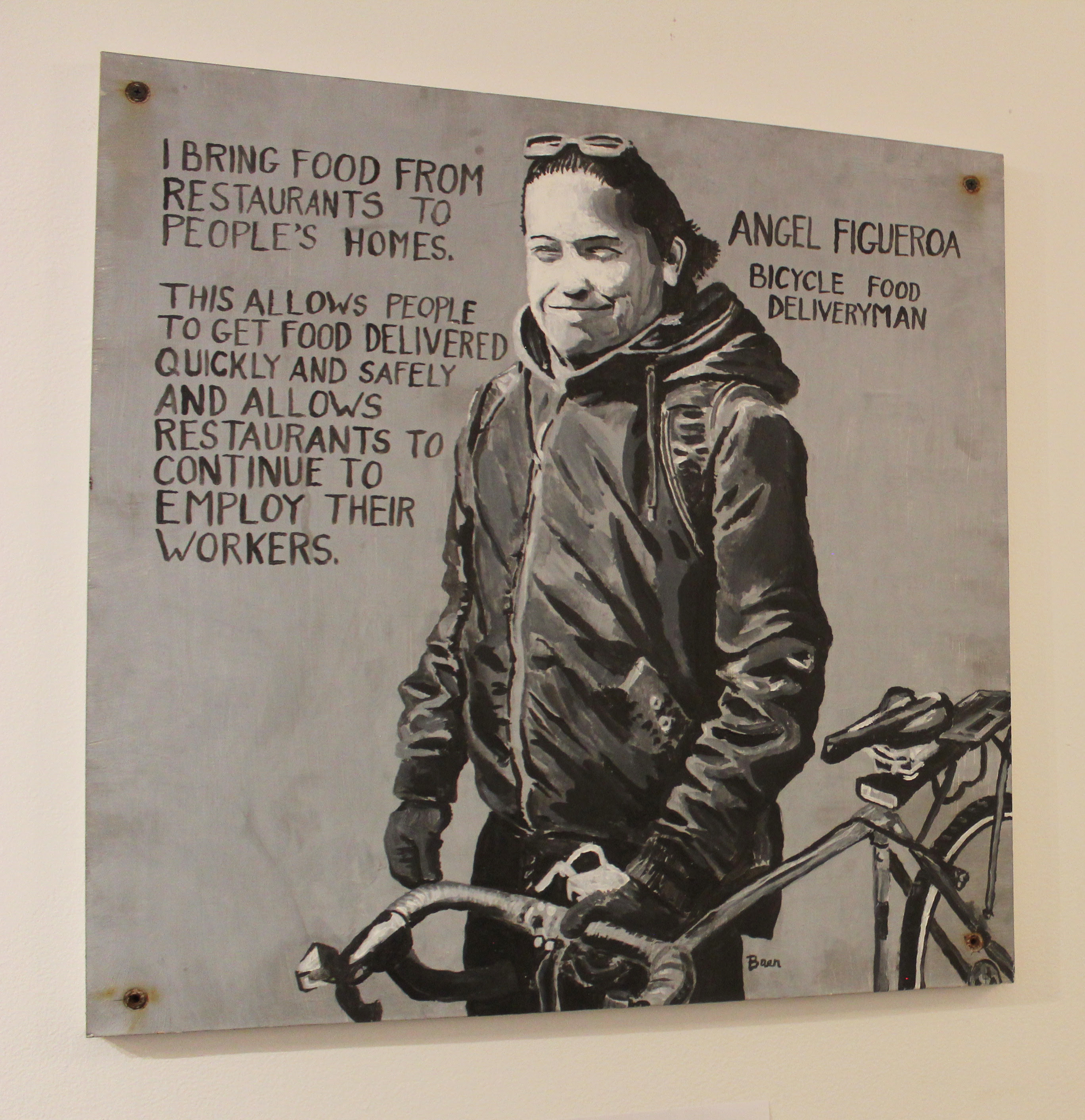 Knowing they wanted to use more than just numbers and statistics to show how the community of Los Sures felt during the pandemic, the team created a museum with artwork from the community.
"Sobre/vivir: Superando La Pandemia en Los Sures" is the title of the community art exhibit at El Museo Los Sures in Brooklyn. Sobre/vivir is a play on the Spanish word sobrevivir which means "to survive." The word vivir means "to live."
The exhibit is filled with items that helped the residents of Los Sures not just survive but live through the pandemic: home-knit gloves and mittens, a rosary, favorite foods, pictures of pets — really anything the residents felt that encapsulated their time during Covid-19.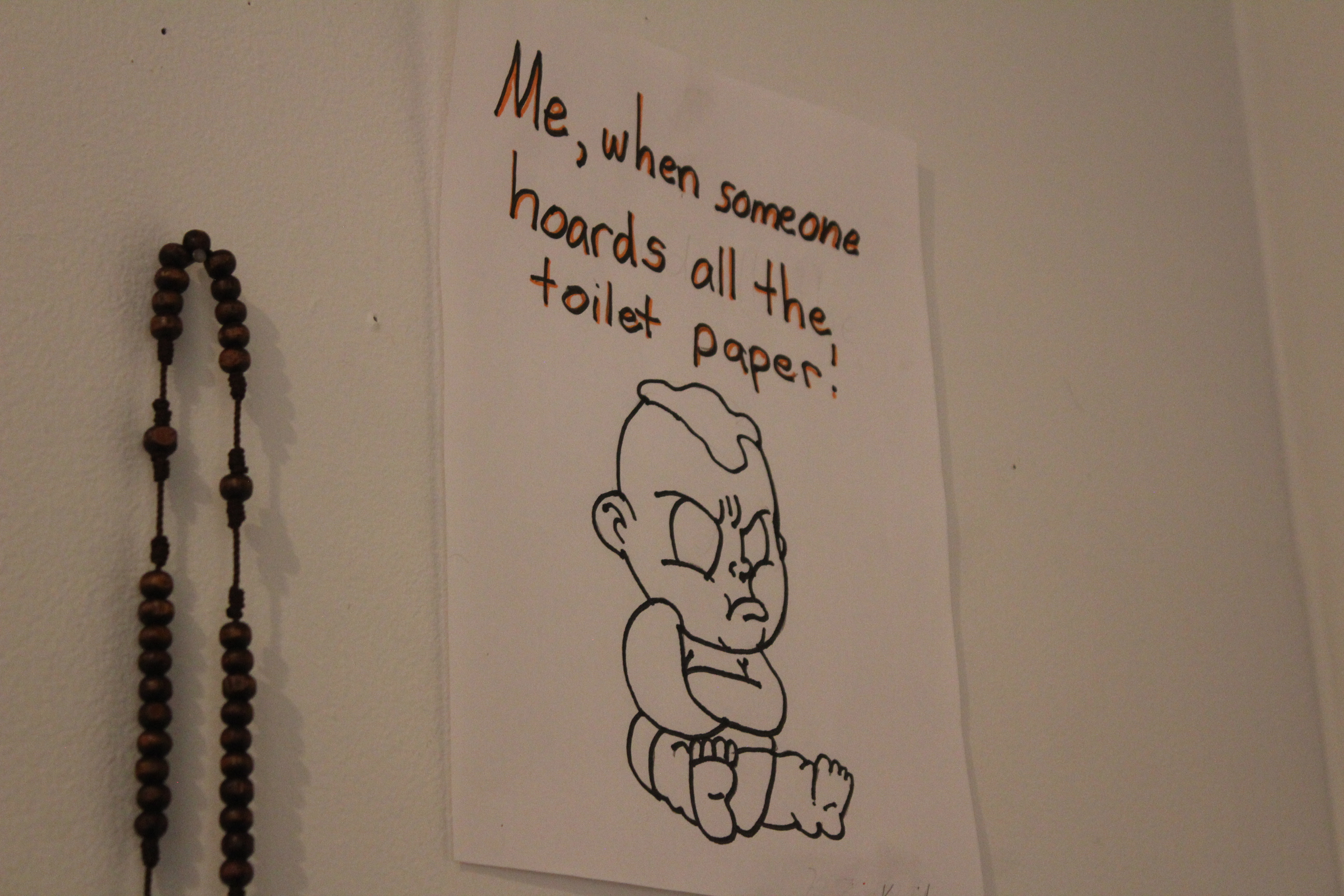 "We don't always take time to reflect and we don't always get to hear the reflections of our people. A lot of it is day-to-day news and responses and just trying to get by," Williams said. "We've had people come in and say that they hadn't processed it before. And then we've had people who came in, who participated, seniors in the neighborhood who lived through so many changes in the neighborhood who are still here now, who, you know, drew something small and to see them come in and, you know, realize that they were a part of it and they got to express themselves. It was really heartwarming."
This museum is unique in many ways.
"The reason why I think this works better is because it's a live show, which means you get new pieces and put them up," said Denise Arroyo, museum curator and longtime Los Sures resident. "I think that's the best part of it. Like, you can come in one week and then the next week because there's something else that you can see. So it's always a little bit new, it's a little bit more that the neighborhood has to say."
One of the art pieces showcased in the museum is a community-made "Loteria" wall, where residents ranging from ages 2 to 83 drew items that got them through the pandemic. Whether it was television, meditation, pets, religion or video games, residents were able to show others what helped them through some of the worst times. The "Loteria" wall is constantly growing, as more residents remember what brought them joy during these trying times.
Along with artwork and objects that are hung on the walls, there are quotes from residents expressing their frustrations during the pandemic.
"I really miss going to the center with my girlfriends like sisters, to David Santiago, ok? We went every day, we met, and we had a beautiful time. We stopped sewing, doing our classes, everything they taught us, and many activities that we were doing. So we are in that — and I am asking God everyday, I pray to God that this pandemic ends so that we can go back to normal," reads one.
"My enjoyment was: I live alone, I need company. It [the senior center] was helping me out: I got up in the morning, made my little breakfast, took my shower, cleaned up everything and went to the center-two programs! "Let's make a Deal" and "The Price is Right." At 12 o'clock I would come home. They took that away from me! They took that away from me! OK? That kept me busy. That kept my head. I had something to get up for," another said.
Photo: Andrea Pineda-Salgado
These sentences were sentences that were common for many people during the pandemic, everyone missed something, everyone had something taken away from them. Now that the pandemic is so close to ending, this exhibit allowed residents and visitors to pause and reflect on their own experiences.
Arroyo hopes that when outsiders come and visit the museum they can get a sense of the neighborhood and what its residents went through, and also their sense of joy and renewal.
Sobre/Vivir will be on display through July 31. The Museo de Los Sures is open to the public Thursdays, Fridays and Saturdays from 4 to 8 p.m. at 120 South 1st St. in Brooklyn.
Lovely readers, please help us grow our community by becoming one of the following:
Neighbor: This membership level includes weekly virtual yoga for $4.99/month.
Friend: This membership level includes weekly virtual yoga, plus the donation of an insulated tote bag to a local food pantry for $9.99/month.
Auntie: This membership level includes the above, plus your choice of one of our curated tours of New York City for $299/year.
THE MAYORAL RACE
As you know, we've been wondering WTF is going on with this wacky mayoral race. Our elections correspondent, Felipe De La Hoz, has been helping us understand what's going on. We checked in with him today for the latest, and he had some exciting news:
The New York City Board of Elections has now released updated unofficial results, including for City Council races in which there were primaries. The preliminary results are still missing the count of over 120,000 absentee ballots, so the previous unofficial results, including for the mayoral primary, remain unchanged. Preliminary results including these ballots are expected today, and while there will be a curing process to ensure that voters can address any potential deficiencies in their ballots, those results will almost certainly reflect the final, official results. Which is to say, by the end of the day it is very likely that we'll know who the next New York City mayor, comptroller, and City Council members will be, assuming that the BOE is able to tabulate the results avoiding any errors like the counting of test ballots that happened last week.
— Felipe De La Hoz
ON THE POD
Make sure you have a listen to our latest episode where we speak with Sean Berthiaume, co-owner of Vinnie's Pizzeria, for tips on how you can help restaurants survive in a post-covid world. Tune in tomorrow, for a conversation between our founder, S. Mitra Kalita and Gary Bagley, the outgoing executive director of New York Cares, comparing experiences during the pandemic. This conversation took place just days before Bagley announced his departure at the end of the year.
OUT & ABOUT
Movies under the stars
The free movie series put on by the city at parks and playgrounds is back for the summer with film for all ages. And for the first time, it will include screenings from the third annual New York Public School Film Festival, which features 32 films created by public school students across the city. The film festival will be showing Friday, July 9, at Travers Park in Queens, Saturday, July 10 at J. Hood Wright Park in Manhattan and Sunday, July 11, at Sunset Park in Brooklyn. Chairs are available for seniors and people with disabilities. View the lineup of movies here.
Shakespeare in the Park
The beloved free performance series returned last weekend after being canceled last year due to the pandemic. This year's featured performance is "Merry Wives," a "fresh and joyous" adaptation by Jocelyn Bioh of Shakespeare's "The Merry Wives of Windsor," directed by Saheem Ali. Set in South Harlem amid a vibrant community of West African immigrants, "Merry Wives" is "a New York story about tricks of the heart, performed in the heart of the City — Central Park's magical Delacorte Theater. A raucous spinoff featuring the Bard's most beloved comic characters, this hilarious farce tells the story of the trickster Falstaff and the wily wives who outwit him in a new celebration of Black joy, laughter and vitality."
Tickets are available via an online lottery each Tuesday and Friday, one week prior to the next week's scheduled performances. The outdoor amphitheater where Shakespeare is performed will be at 80% of its 1,800-seat capacity. There will be full capacity sections for those who are vaccinated and socially distanced sections for those who aren't. Masks are required for all. Learn more and enter the ticket lottery here.
Funnel cakes and ferris wheels
The Astoria Park Carnival is back starting tomorrow through Sunday, July 11, held under the RFK bridge. Admission is free and ride tickets are $1.50 each. Supervision is required for those ages 17 and younger. Learn more.
A new type of art gallery
A unique art gallery opened last month in the traditionally insular Orthodox Jewish neighborhood of Williamsburg in Brooklyn. The Shtetl Gallery is the brainchild of artist Zalmen Glauber, and features mostly religious themed art by Hasidic artists. Glauber's goal for the gallery is to "create a center for Hasidic art in the heart of vibrant Williamsburg, to introduce and to educate the greater NYC populace to the thriving Chasidic community." The Shtetl Gallery is open Monday and Tuesday by appointment and Wednesday from 12 to 5 p.m. and is located inside the Condor Hotel at 56 Franklin Ave. in Brooklyn. Learn more.
GIVE & GET HELP
Dollars for dance
Queens-based choreographers, dancers and dance organizations with an annual operating budget of less than $250,000 are eligible for $2,000 and $10,000 commissions to create new work through the Artist Commissioning Program (ACP). The program is designed to democratize the traditional commissioning process and highlight stories with underrepresented protagonists. The deadline to apply is Monday, July 12, at 11:59 p.m. Learn more and apply here.
Volunteer with Astoria Fridge
The mutual aid project is looking for help with food prep and distribution in July, including picking up and labeling bagels at the Moore Jackson Community Garden. View opportunities and signup here.
BBQ for books
Tikkun BBQ is hosting a fundraiser to benefit the Rolling Library and fund its initiative to build little free libraries at NYCHA housing and stock them with books by BIPOC authors. Tikkun will be selling sesame pork belly burnt ends, beef ribs, brisket, blondies and more this Saturday, July 10, at Diamond Dogs (34-03 31st Ave. in Astoria) from 1 to 5 p.m. or sold out.
DAY-TRIPPING
Glamping at Fort Tilden Beach
Fort Tilden Beach may not have the name recognition Coney Island and Jacob Riis, but you know what it also doesn't have? The crowds. And unlike other beaches, you can actually spend the night — how dreamy does waking up next to the ocean sound? Camp Rockaway makes it easy (and comfortable!) for city dwellers who normally recoil at the thought of pitching a tent.
You can rent a fully furnished safari tent equipped with a memory foam mattress and enjoy the communal fire pit and picnic area or lazing around in the hammocks. For the more adventurous, you can also pitch your own tent. Learn more and make reservations here.
LAST WORD
We want to see, hear, feel, support your art and response to this moment. To submit a poem, short story, artwork or any shareable experience, email us. If your work is selected, you will receive a $100 stipend and become part of our growing network of artists.

Fotocopy.net (2020), Screenshot of Interactive desktop web environment
Click for Interactive experience
This week we welcome multidisciplinary visual artist Umber Majeed. Her writing, animation and new media work engages with familial archives to explore Pakistani state, urban and digital infrastructure through a feminist lens. Majeed has shown in venues across Pakistan, North America and Europe. In October 2018, Majeed had her debut solo exhibition, 'In the Name of Hypersurface of the Present' at Rubber Factory, New York. In July 2021, Majeed will have a solo presentation at 1708 Gallery in Richmond, Virgina.
Artist Statement:
"Within my interdisciplinary visual art practice, I engage in discourses surrounding migration, postcoloniality and political content in South Asian diasporic popular culture. My current projects trace patriarchy grounded in nationalist movements through a feminist analysis of the history of urban infrastructure and city-building in Pakistan. The trauma within bureaucratic drawn borders onto land are dislocated into nuanced representations of community building within the digital- no less violent.
Fotocopy.net (2020), Screenshot of Interactive desktop web environment
Click for Interactive experience
Speculative fiction, collage, and the digital interface are conceptual and formal tools within my work; sources I derive from are familial analog photographic archives, stock imagery, and state propaganda within Urdu publications on poetry and tourism. These extracted materials are then collapsed and reimagined within the digital interface to create alternative timescapes. With humor, lush visuality and disjointed perspectives my writings, drawings, animations and new media works seek to make visible the outlines of cultural alienation, patriarchy and systematic violence.
My current project "Trans-Pakistan Zindabad (Long Live Trans-Pakistan)" consists of a lecture performance, in process animation, VR installation and interactive web environment that outlines the intersections of military- state surveillance, global capital networks, gentrification and grandeur urban internationalism of a corrupt housing corporation, Bahria Town, based in Pakistan."
View more of Majeed's work on her website and Instagram page.