Dear Neighbor,
How are you? We hope you had a lovely long weekend. This week Epicenter-NYC reporter Andrea Pineda-Salgado spoke with the team behind Los Sures Food Pantry about how the work they did throughout the pandemic resulted in an art exhibit.
The Los Sures Comida Food Pantry team normally served about 1,500 people per month. When the pandemic hit, they were astonished by the amount of people in need; in April of 2020 nearly 6,000 people showed up.
The people of South Williamsburg, also known as Los Sures (the souths) to its predominantly Latino residents, each had a unique and compelling pandemic story to tell. The Los Sures team began creating focus groups and compiling data. The results shocked them: 70% of South Williamsburg residents said they were simply "not okay" when asked about their mental health. They described themselves as stressed, depressed, frustrated, worried and anxious. Yet through their responses the team also read into something else — the community's resilience.
"People told us how much trouble they were going through, but we felt like that didn't necessarily say what we really thought people were saying, which is: we're still here and we made it," said Zach Williams, director of Los Sures Comida Food Pantry.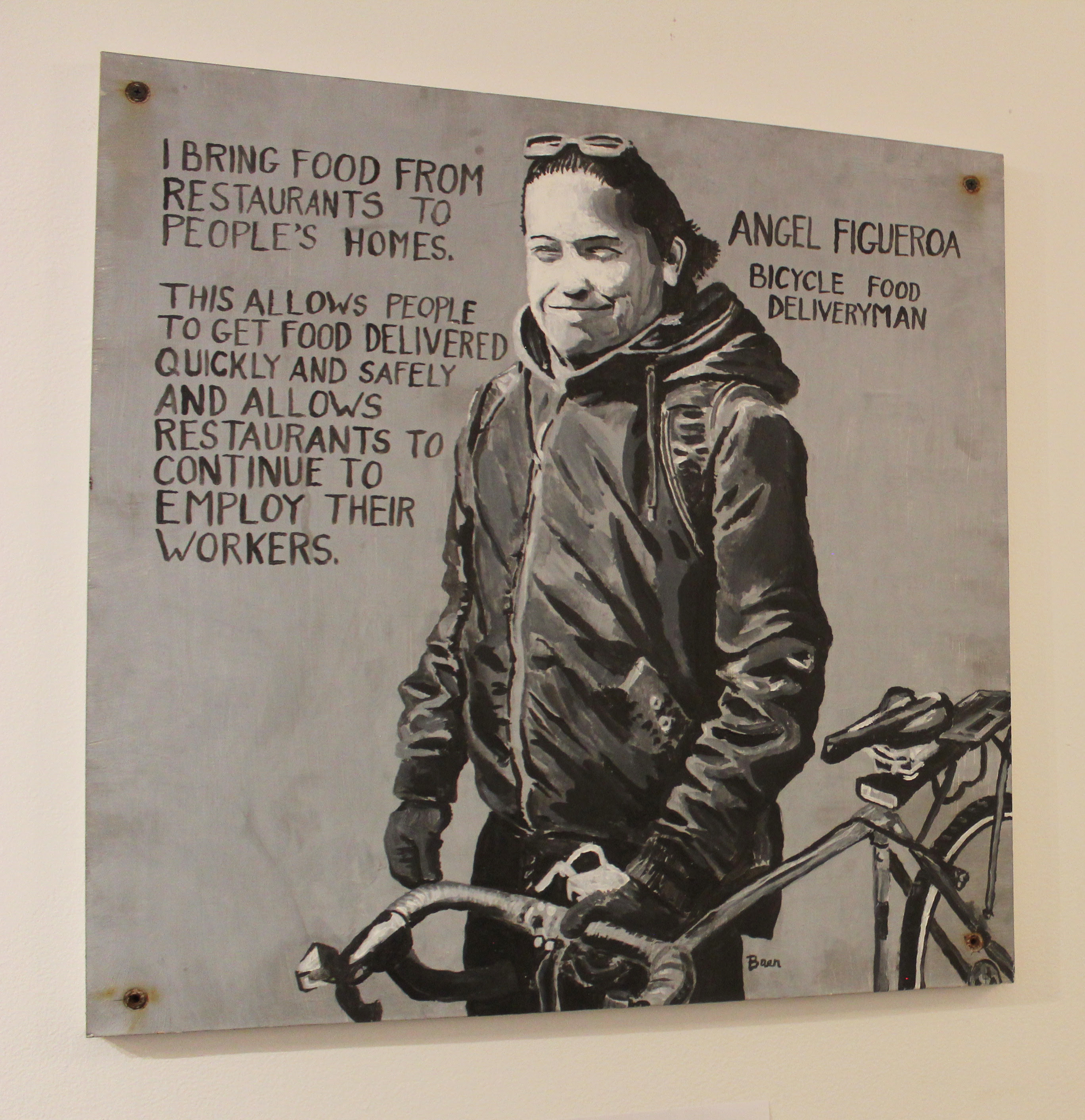 Knowing they wanted to use more than just numbers and statistics to show how the community of Los Sures felt during the pandemic, the team created a museum with artwork from the community.
"Sobre/vivir: Superando La Pandemia en Los Sures" is the title of the community art exhibit at El Museo Los Sures in Brooklyn. Sobre/vivir is a play on the Spanish word sobrevivir which means "to survive." The word vivir means "to live."
The exhibit is filled with items that helped the residents of Los Sures not just survive but live through the pandemic: home-knit gloves and mittens, a rosary, favorite foods, pictures of pets — really anything the residents felt that encapsulated their time during Covid-19.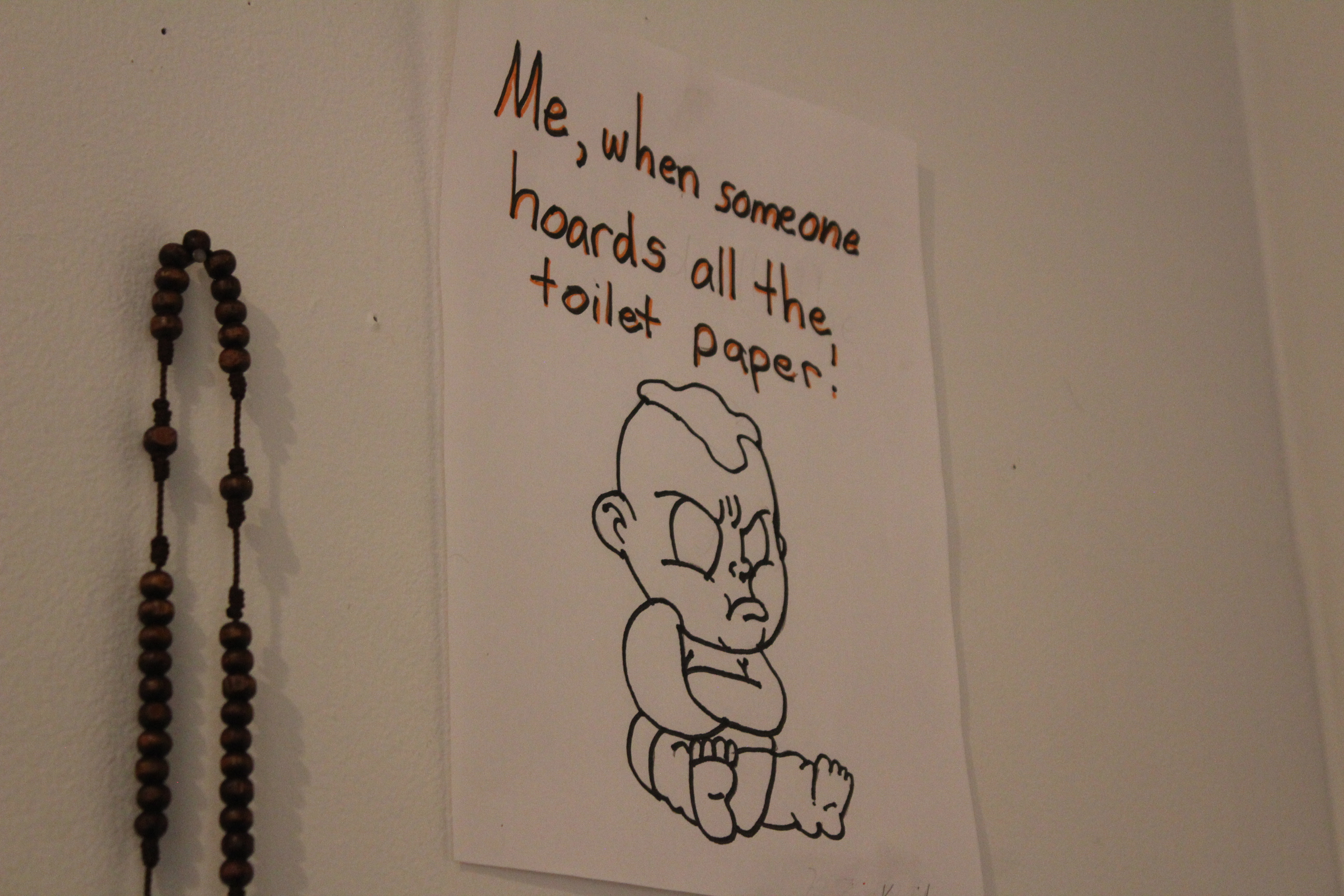 "We don't always take time to reflect and we don't always get to hear the reflections of our people. A lot of it is day-to-day news and responses and just trying to get by," Williams said. "We've had people come in and say that they hadn't processed it before. And then we've had people who came in, who participated, seniors in the neighborhood who lived through so many changes in the neighborhood who are still here now, who, you know, drew something small and to see them come in and, you know, realize that they were a part of it and they got to express themselves. It was really heartwarming."
This museum is unique in many ways.
"The reason why I think this works better is because it's a live show, which means you get new pieces and put them up," said Denise Arroyo, museum curator and longtime Los Sures resident. "I think that's the best part of it. Like, you can come in one week and then the next week because there's something else that you can see. So it's always a little bit new, it's a little bit more that the neighborhood has to say."
One of the art pieces showcased in the museum is a community-made "Loteria" wall, where residents ranging from ages 2 to 83 drew items that got them through the pandemic. Whether it was television, meditation, pets, religion or video games, residents were able to show others what helped them through some of the worst times. The "Loteria" wall is constantly growing, as more residents remember what brought them joy during these trying times.
Along with artwork and objects that are hung on the walls, there are quotes from residents expressing their frustrations during the pandemic.
"I really miss going to the center with my girlfriends like sisters, to David Santiago, ok? We went every day, we met, and we had a beautiful time. We stopped sewing, doing our classes, everything they taught us, and many activities that we were doing. So we are in that — and I am asking God everyday, I pray to God that this pandemic ends so that we can go back to normal," reads one.
"My enjoyment was: I live alone, I need company. It [the senior center] was helping me out: I got up in the morning, made my little breakfast, took my shower, cleaned up everything and went to the center-two programs! "Let's make a Deal" and "The Price is Right." At 12 o'clock I would come home. They took that away from me! They took that away from me! OK? That kept me busy. That kept my head. I had something to get up for," another said.
Photo: Andrea Pineda-Salgado
These sentences were sentences that were common for many people during the pandemic, everyone missed something, everyone had something taken away from them. Now that the pandemic is so close to ending, this exhibit allowed residents and visitors to pause and reflect on their own experiences.
Arroyo hopes that when outsiders come and visit the museum they can get a sense of the neighborhood and what its residents went through, and also their sense of joy and renewal.
Sobre/Vivir will be on display through July 31. The Museo de Los Sures is open to the public Thursdays, Fridays and Saturdays from 4 to 8 p.m. at 120 South 1st St. in Brooklyn.