Speaking of students with special needs, last summer some of those very students were not able to partake in the city's Summer Rising program because of lack of transportation. In fact, issues with transportation for special needs students has long been an issue that was exacerbated by the pandemic.
Students with special needs across the five boroughs often attend schools that are not in their neighborhood in order to receive proper services. This means they require transportation in order to get to and from school—which can sometimes be in a completely different borough from where they reside. NYC public school buses are owned and operated by independent companies such as Consolidated Bus Transit, not by individual schools like some school districts across the country operate. Because of this, special needs children often face issues with long bus routes, route changes, and driver shortages.
An advocacy group, Parents to Improve School Transportation (PIST) was formed in 2010 when parents realized that some bus routes took over two hours each way. For more than a decade, they have been fighting to establish bus routes that are shorter, safer, sensible, and stable for NYC public school students with special needs. They are currently fighting for a School Bus Bill of Rights referendum which calls for a system of safe, on-time school busing that respects the rights, needs, and voices of the real stakeholders: riders, workers/unions, educators, and families from all communities.
The pandemic worsened the transportation issues in our city with driver shortages- leaving some students without services at all. The Department Of Education responded with a reimbursement program where families could pay out of pocket for taxi services and later be reimbursed. Most parents can not afford to pay for car fare to and from school each day—and many parents who did come out of pocket have yet to be reimbursed for expenses incurred during the 2020-21 school year.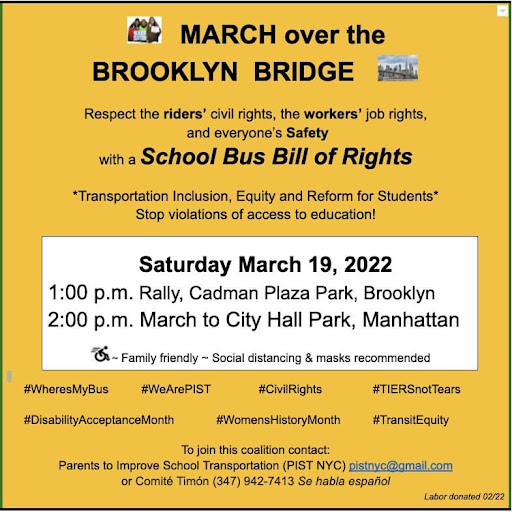 In February, PIST kicked off the 2022 School Bus Bill of Rights campaign on #TransitEquityDay via a virtual press conference with parents and advocates. And on Saturday, March 19, there will be a march across the Brooklyn Bridge in an effort to bring awareness to the School Bus Bill of Rights proposal which focuses on respecting rider's civil rights, worker's job rights, and everyone's safety. Find more information about how you can get involved here.