Dear Neighbor,Have you filled out the census yet? Data collection is scheduled to end on September 30, one month earlier than previously announced, and it's estimated that more than half of US households still haven't been counted. Filling out the census is crucial to democracy. In fact, it's mandated by the constitution. We spoke with Ahsia Badi, New York State census director at Emgage USA, which builds political awareness in the American Muslim community, to explain why it's important. She itemized how New Yorkers can do their part.
Everybody matters. Regardless of your citizenship or housing status, you need to be counted by the census, and doing so will not put you at risk.
New York City and New York State give more than they get. This is one of Badi's main points. We can only get the maximum amount we deserve if everybody fills out the census. Want more funding for subways, bridges, tunnels and roads? Fill out the census!
What if you left the city due to coronavirus? It doesn't matter, Badi said. Whether you are staying with your parents right now or spending time at a second home, if, in a coronavirus-free world you planned to be living in New York City in April, that's the place you should list as your home.
How to help. Name-drop the census — everywhere. On Zoom calls with friends or colleagues. As you chitchat in line at the store (keep safe distance!). Ask your neighbors if they need help. Encourage your building to post information about the census. Get out and speak to people in your community: what a great excuse to start conversation. Track progress. CUNY created a fabulous mapping tool that allows you to input your address and see what percentage of your neighborhood has completed the census. As far as New York City goes, all five boroughs have pretty dismal response rates. It's not so different from voting. "Voting matters and elections have consequences and participating in the census matters," Badi said, "and just like your vote matters, being counted in the census has an impact on your community for far longer than an election period." Census and the city. Curious about the role the census has played in shaping our city so far? Educators from the Museum of the City of New York join the New York Public Library tomorrow, August 12, at 3 p.m. to discuss the impact the census has had on NYC's past and the role it plays in determining its future. Advance registration required.

Please help us grow this community by hitting forward on this newsletter, spreading word about its existence in your networks and asking folks to subscribe. Follow us on Facebook and Instagram. We also seek donations to pay our vendors and freelancers.

Michelle Williams of Good IV the Soul. Photo: Clay WilliamsOUT & ABOUT

Good for the soul: Black entrepreneurs trying to build their brands and businesses are part of an initiative launched by Greg Baxtrom, chef/owner of Brooklyn restaurants Olmsted and Maison Yaki. This week features Michelle Williams of @goodivthesoul, and we are drooling over her homestyle cooking, which feels exactly what we need right now. Orders must be placed in advance through Resy and she's there till August 16. Salvaging summer: Brooklyn Bridge Park, the 85-acre stretch of land along the East River, has reinstated some outdoor activities like sunrise yoga, stargazing and kayaking. All free! Check out the event calendar for more information — advance registration required. Dancing east: Drive East is a massive concert series honoring classical Indian music and dance. This year the event will be strictly virtual, with 16 concerts played in seven cities across the globe through August 16. Though online, the event strives for intimacy, with just 150 tickets sold per performance. See the website for schedules and tickets.

Photo courtesy of Tishman Speyer
Play tourist: All those places you've been meaning to get to in New York City? Grab a hot dog from one of the street vendors (they are hurting for business) and marvel at having Times Square to yourself. Follow up with a visit to one of the city's famous viewpoints. The Top of the Rock Observation Deck at Rockefeller Center, known for its 360° views of Manhattan, just reopened. Yes, entrance is pricey, but to honor those who have kept our city running since March, essential workers (plus one guest) receive free admission August 14 through 16. Learn more. Outdoor workouts: With bars and restaurants moving outside, it was only natural (OK, absolutely necessary, who are we kidding) that gyms followed suit. BKLYN just opened the city's first outdoor cycling studio in Brooklyn. Workouts will be socially distant and are designed to pose little disruption to the community — you ride to a SoundOff music system, think silent disco-style. Learn more and sign up. And you deserve a doughnut: Because reading about working out is one step closer to actually working out, right? If you've had a melt-in-your-mouth doughnut fresh off the production line at Krispy Kreme, you know it's a transformative experience. The North Carolina-based doughnut shop recently opened in Harlem. It's the first New York City location to feature a hot light, which tells you when doughnuts are fresh from the oven. Just laugh: Sometimes life — i.e., right now — is so absurd, that's all we can really do. Q.E.D. in Astoria is back open for socially distanced comedy shows on the patio. We're happy to showcase the only independent, woman-owned and operated venue for arts in the neighborhood. (Also FYI, Q.E.D. is an abbreviation of the Latin phrase "quod erat demonstrandum," which translates to "that which was demonstrated.") Tickets must be purchased in advance. Oysters & Beer: Both will be aplenty at the second annual Brooklyn Oyster Festival at Greenwood Park on September 12. Tickets are $50, and limited. Reserve here. GIVE & GET HELPHow to help Lebanon: We spoke to friends with connections to Beirut, the scene of a deadly explosion last week. These are some organizations working on the ground they suggest donating to:OffrejoieImpact LebanonBasmeh and Zeitooneh
A mask and a mission: It looks like face masks are here to stay for the foreseeable future, so let's get intentional about where we purchase them. We recently learned about Sisters' Creation, a city business owned by a woman of color, Kazi Fouzia. Sisters' Creation imports handicrafts that support female artists in Bangladesh, India and Thailand, and hires immigrant women in New York City. Fouzia is also raising money to create masks for Bengali street vendors in Queens. Purchase a mask.
Green won't go: Starting this week, subway riders using the 4, 5 and 6 lines should expect major disruptions. Service on these lines will be suspended between Grand Central and Brooklyn at 9:30 p.m. during the week and all day on weekends. The work is set to run through August, so plan accordingly. Community art: The year 2020 has been a lot. As a way to help us process, Flushing Town Hall is asking community members to express thoughts and feelings through art. It will be offering free art kits this week as part of a project on grief, resiliency and hope. For pickup times and submission guidelines, see here. Refugee assistance: Want to help refugees navigate America? Ads-Up is a group of Australian expats and American allies working to help 1,250 refugees from around the world, via the islands of Manus and Nauru. These displaced folks are being resettled in the US under the US-Australia refugee agreement. Ads-Up seeks New York-based volunteers to help refugees get acclimated to their new life (remotely), or fundraise, among other needs. Learn more about Ads-Up and sign up to become a volunteer.
DAY-TRIPPINGPrinceton, N.J., makes a great day trip (or weekend) with low-contact possibilities in hiking, biking, eating and appreciating art. Some ideas: On the waterfront: You can spend an hour or a whole day in the Delaware and Raritan Canal. Rent gear from Princeton Canoe and Kayak. Pack a snack or lunch as there are plenty of places to stop or picnic. More info here. Biking: Near the rental place is also an entry point to a great bike trail along the D&R. You could cycle all the way from one university (Princeton) to another (Rutgers), with benches and grassy areas to stop along the way. Note: There's a parking lot across the kayak rental place, or it's a 10- to 15-minute walk from Princeton train station. Trail recommendations here. A park of poetry: Head east of Princeton for a truly unique (and not-too-crowded) outdoor space also preserved by the D&R Greenway Land Trust. St. Michaels Farm Preserve has six miles of trails through fields, hills, farms, woods and along a stream. If your kids (or you yourself) like to stop along the way, a portion of the trail features poetry, both whimsical and profound, and it's a wonderful way to reflect while moving. More details here. Sculpture culture: The Grounds for Sculpture has reopened — but you need to plan and book tickets in advance. This museum is less sprawling than Storm King, though equally stunning with beautiful grounds (look for the peacocks), an impressive permanent collection and quirky life-size sculptures and hiding/Instagrammable spots galore. Tickets are booked two weeks out; you'll see more openings for late afternoons and evenings. The Haven: Many restaurants in Princeton boast outdoor dining (and were doing so even before the pandemic) but we really only have one recommendation: the pizza cheesesteak at Hoagie Haven. LAST WORD We want to see, hear, feel, support your art and response to this moment. To submit a poem, short story, artwork or any shareable experience, email us.


Mala Iqbal, Waiting for the 1 Train, 2020, acrylic on canvas, 45″x57″

This week we welcome Mala Iqbal. Iqbal was born in the Bronx in 1973 and grew up in a household where three cultures and four languages intersected.Her most recent solo show was at Taylor University in Upland, Indiana (2018). Other solo shows were at Ulterior Gallery, Bellwether Gallery and PPOW in New York, Twelve Gates Arts in Philadelphia, and Richard Heller Gallery in Los Angeles. Her work has been exhibited in group shows throughout the United States as well as in Australia, China, Europe and India. Her work has been reviewed in various publications including the New York Times, the Village Voice and the New Yorker.Iqbal has been awarded artist residencies at Yaddo, the Fine Arts Work Center and the Hermitage Artist Retreat. She received a New York Foundation for the Arts (NYFA) fellowship in Painting in 2008. Iqbal lives and works in New York City. Visit her website, or follow her on Instagram to see more of her work.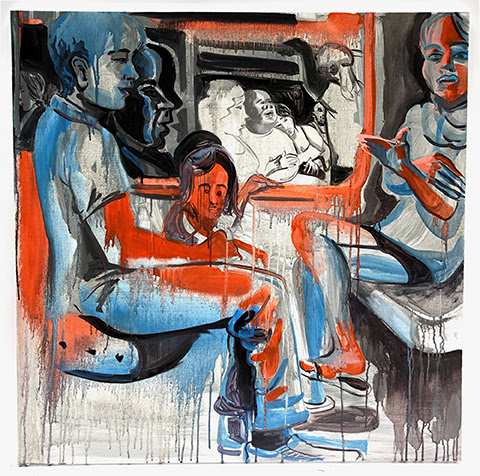 Mala Iqbal, Long Ride, 2020, acrylic on canvas, 36″x36″
This newsletter was written by Danielle Hyams. Photographs and design by Nitin Mukul and editing by Robin Cabana and Faye Chiu. Did you like it or find it useful? Tell a friend to sign up. Support our vendors, freelancers and efforts by making a donation to our tip jar.